Categories

Monday, September 22, 2008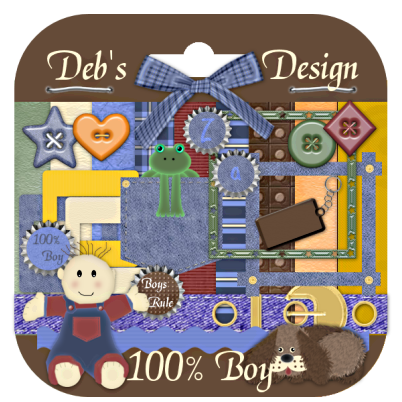 Here is my preview of my finished scrapkit from our monthly challenge at Scrapkit Challenge. The theme was 100% boy and I loved the color palette that was chosen. As usual I made the kit for taggers but some of the girls wanted my kit in scrap size, so over the weekend I worked on increasing the size of the items. There was only one blue bow that did not turn out right,so it is not included in the larger size kit.
The frog, dog and belt were my results from tutorials and the boy and keychain were my own creation.
Included in this kit are:
Large and small bottle cap alpha's 2 blank denim bottle caps 2 bottle caps with sayings 2 bows 1 belt 4 buttons 1 boy doll 1 puppy 1 denim frame 1 tin look frame 3 photo slide mounts 1 frog 1 keychain 9 papers 1 denim pocket 1 denim pocket with frog 2 ribbons with bow 8 ric rac 2 wordart
All items are in png or jpeg format.
You can download the taggers size kit HERE
and the scrapper size kit HERE
I hope that you enjoy this scrapkit!
Ebates Canada

My CU4CU TOU
All my Cu4Cu products are exactly that. No need to spend money on an extra license. My terms are very liberal and here they are:
--do not sell/give away the script or claim as your own
--do not use the tubes/selections/patterns/
gradients etc in other projects
--do not turn it into a greyscale template and then redistribute
--No sharing of files, just because you downloaded it doesn't give you the right to share it.
--Do not repackage as greyscale and resell and do not claim as your own
--Do not turn into a script and then sell it
--You may colorize and use in Cu element pkgs, kits,S4H/S4O.
Credit not necessary but always appreciated