Categories

Monday, May 26, 2008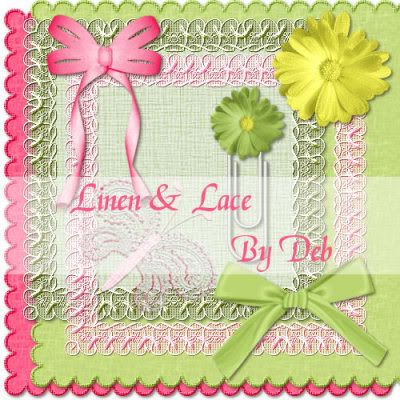 I finally managed to put the finishing touches on my new Scrap Kit for taggers. It is in PSP format.
I have called it Linen and Lace.
This kit contains
6 flowers
4 small bows
2 long ribbon bows
3 lace butterflies
4 lace frames
4 lace hankies
1 linen frame
1 round frame
2 paper clips
5 linen papers
I had finished the linen papers and flower accessories several weeks ago, but then my mojo failed me and I didn't know what else to add. Then today I found a wonderful lace tutorial and voila, scrap kit is now finished.
Please download this kit
HERE
I hope you enjoy this kit.
Ebates Canada

My CU4CU TOU
All my Cu4Cu products are exactly that. No need to spend money on an extra license. My terms are very liberal and here they are:
--do not sell/give away the script or claim as your own
--do not use the tubes/selections/patterns/
gradients etc in other projects
--do not turn it into a greyscale template and then redistribute
--No sharing of files, just because you downloaded it doesn't give you the right to share it.
--Do not repackage as greyscale and resell and do not claim as your own
--Do not turn into a script and then sell it
--You may colorize and use in Cu element pkgs, kits,S4H/S4O.
Credit not necessary but always appreciated